It's fun to see ghosts, vampires and werewolves shrouded in mystery each Halloween, but students are tired of textbook prices being a mystery year after year. Yet they remain one of the highest—and often unexpected—out of pocket costs of pursuing higher education. Especially for community college and non-traditional students, spending several hundreds of dollars can be a crushing expense that forces them to make hard choices about paying bills, putting food on the table, and taking enough courses to be on track for graduation.
For students like Gabriella, who attends Georgia State University, the cost of textbooks made getting her education difficult. When Gabriella couldn't afford their textbooks, they had to make the tough decision to sacrifice a higher grade in one of their classes by not purchasing the books they needed. "This semester was so difficult for me. This shouldn't be the reality for college students," Gabriella said.
Willow, a student at Holyoke Community College, faced a similar choice: whether to buy books or food for the week. "This is unacceptable," Willow said. "We are struggling."
It's clear the textbooks marketplace is broken, and PIRG student leaders have been working for more than a decade to fix it, by promoting open textbooks that are free to use, and winning adoption of them at the classroom, university, state and federal level.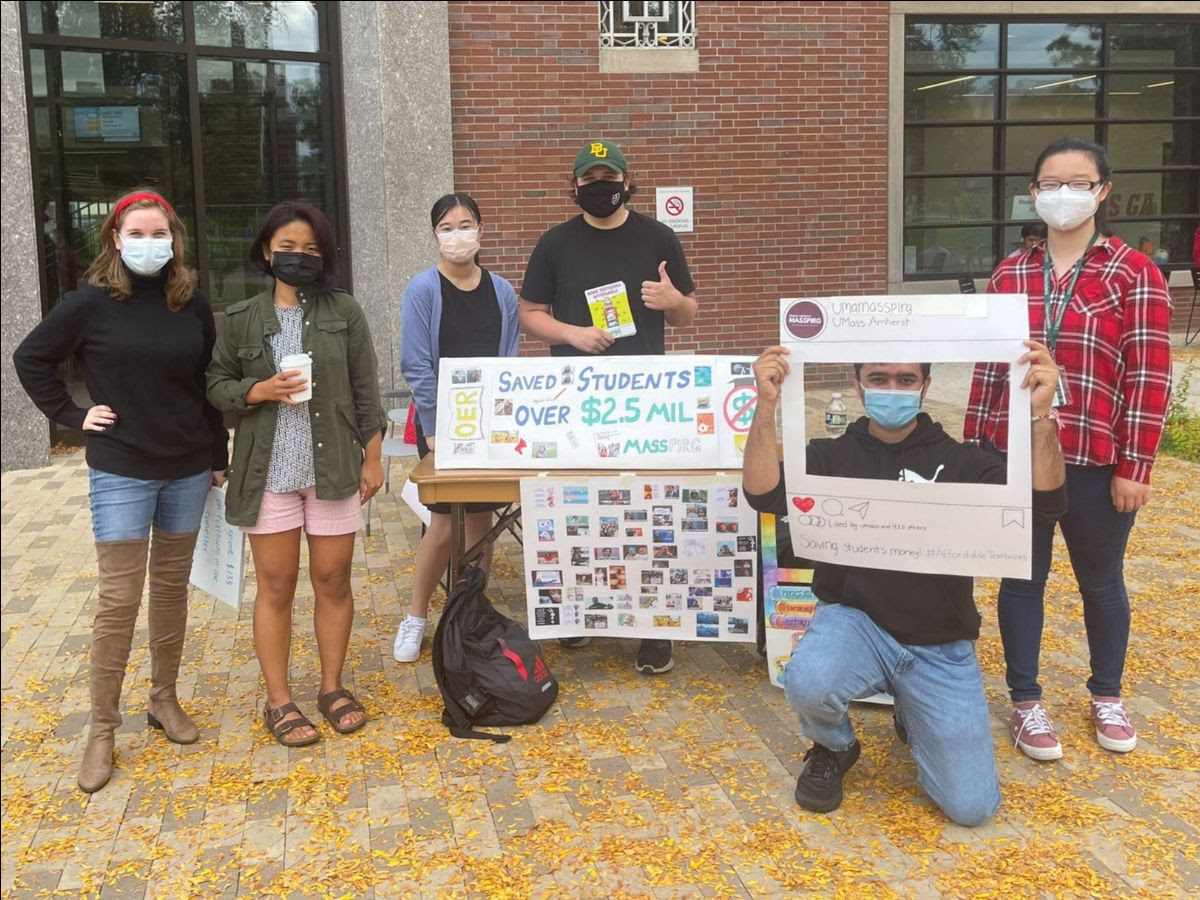 Student leaders at the University of Massachusetts – Amherst collected photo petitions calling for the adoption of open textbook programs and encouraged students to share how much they had spent on textbooks so far this year
Leading up to this year's Open Education conference, students organized educational events to highlight how textbook prices affect them, and promote open, freely available alternatives to the traditional textbook. More than 30 campuses representing 10 states participated, educating over 24,000 students through tabling events on campus and emails. Events ranged from a Halloween-themed "spooky textbook maze" that included facts about the cost of textbooks at UC Riverside, asking students to take a photo and write how much they'd spent on textbooks on a tombstone at Fitchburg State, to a Squid Game-inspired contest to raise awareness at Florida International University.
It was also an opportunity to give students the opportunity to take on more leadership roles in our campaigns. Priya Srinivasan (pictured, left) is a second year Rutgers New Brunswick student who volunteered last year on our campaign to convince Rutgers University to commit to 100% renewable energy. This year, she organized her first event, recruiting five volunteers who reached out to more than 60 professors to educate them about open textbooks!
In addition to educational events, our team helped students write and submit 50 letters-to-the-editor to campus newspapers, spreading the word about the high cost of textbooks and solutions to campus administrators and faculty around the country. Our goal is to educate as many faculty members and administrators as possible about the benefits of open textbooks, and how they can help students attain a better education while saving money.
The result of this outreach? More than 100 professors agreed to switch their courses to open source alternatives.
Finally, we're working to ensure the student voice is included when policymakers talk about textbooks (and other issues that affect students' access to a quality higher education). At this year's Open Education conference, I represented the student voice on issues ranging from course cost marking (which allow students to see the price of course materials during class registration) to pushing back against autobilling/"inclusive access" programs (which allows textbook publishers to directly bill students for course materials as part of their tuition fees but come with their own set of problems).