Florida PIRG Students is a training and action program based on a model that has been helping students make change for 50 years on issues such as protecting the environment and public health, revitalizing our democracy, feeding the hungry and more.

Our organizers, interns, and volunteers focus on tangible issues, provide critical skills trainings, build coalitions, plan events, get media attention, lobby decision makers, and coordinate with students on their campus, across the state, and throughout the country to bring about real change on issues that really matter.
This year we're working on campuses across the state to fight food insecurity, lower the cost of textbooks, save the bees, and more!
PIRG Campus Action Fall 2022 Newsletter
In Fall 2022, Florida PIRG students and Student PIRG clubs across the county helped turn out the youth vote and make an impact in their communities.
Support Florida PIRG at Eckerd College
In Spring 2022, students at Eckerd College voted to supporting funding Florida PIRG on campus!
Student Leadership:
Chloe McKenna // Eckerd College Chapter Chair
Chloe McKenna is a Senior at Eckerd College in St. Petersburg, FL studying Environmental Studies and Animal Studies. She is the Chapter Chair for Florida PIRG's chapter at Eckerd College. Chloe is passionate about protecting our planet and keeping our oceans healthy for future generations. She enjoys spending time traveling, scuba diving, and of course working to get people registered to vote!
Andres Cubillos // Florida State University External Affairs and Outreach Chair (VP)
Andres is a 3rd year political science and international affairs double major at Florida State University. Andres helped establish Florida PIRG Students at FSU's first club in 2020 as the Campaign Coordinator for the New Voters Project Campaign and helped increase FSU precinct voter turnout by 13%. Andres now works as the external affairs and outreach chair focusing on club building and coalition development.
Sam Appel // Florida State University New Voters Project Campaign Coordinator
Sam is a second year Political Science major at FSU, and has have been involved with PIRG since the fall of 2021. He is originally from St. Petersburg, Florida and loves the beach and all things sunny! He serves as the campaign coordinator for the New Voters Project at FSU, and is passionate about making sure Gen Z is showing up and showing out at the ballot box!
Katherine Kozlowski // University of South Florida Club President
Katherine is a junior at the University of South Florida, Tampa campus dual majoring in Economics and Political Science. Katherine started as an intern for the 100% Renewable Energy campaign, where she presented to former USF President Currall and other USF administration about the 100% initiative. After her position as Visibility Chair, she ran for President, and currently oversees the Hunger and Homelessness, New Voters Project, and 100% Renewable Energy campaigns. Katherine enjoys playing tennis, painting, and kayaking.
Quanzelle Austrie // University of South Florida Vice President and New Voters Project Campaign Coordinator
Quanzelle is a senior Political Science major with a minor in Mass Communications. She got started with the New Voters Project in 2021 and is committed to ensuring communication between young people and elected officials through civic engagement. Quanzelle is excited to help institutionalize voter participation on her campus and within her community.
Dylan Courtney // Univerity of South Florida 100% Renewable Energy Campaign Coordinator
Dylan is a freshman at the University of South Florida, majoring in Creative Writing with a minor in Queer and Sexuality Studies. She lives for her books and tales yet to be heard. She is an activist at heart, fighting climate change with her crew at USF.
Staff: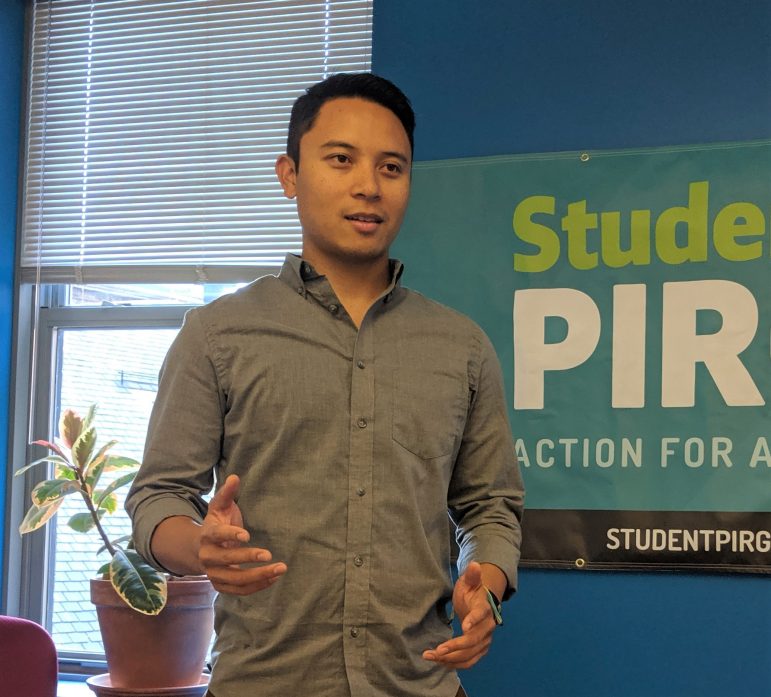 Manny Rin // Organizing Director

Manny began his career in college as a student leader with CALPIRG. Now he works with staff and students to make sure the largest voting block in the country is activated and empowered. Previously the executive director of Change Corps, Manny has extensive experience leading campaigns, including working with MoveOn.org Political Action to get out the vote in swing states in 2014, and with Everytown for Gun Safety to pass gun safety legislation in Oregon. Manny lives in Denver, where he enjoys running, playing pool and trivia with friends.
Dan Xie // Political Director
Dan directs the national political strategy and grant fundraising for the Student PIRGs. Dan has managed successful campaigns from coast to coast to cap global warming pollution, fight the high cost of higher education, and make voting more accessible for students. She has recruited and trained hundreds of students and staff on public interest campaigns and got her start as an intern with CALPIRG Students. Dan lives in St. Petersburg, Fla., where she is an avid cyclist and climber.