Democratic engagement starts at the ballot box, but it shouldn't end there. For 50 years, the Student PIRGs have given college students a crash course in organizing and activism, of which lobbying for legislation is one tool in the toolbox of social change. Right now, legislative sessions are in full swing across the country and our team helped students take their activism and their voice from campus to state capitols and DC.

Our network of local student-led organizations have made major progress on their legislative priorities this spring. Read on and celebrate the important work they're doing to fight for the future this generation deserves.
---
Federal action for America's wildlife
States and tribal nations have identified more than 12,000 species in need of stronger conservation efforts, and they need the funds to do so. The federal Recovering America's Wildlife Act (S.2372/H.R. 2773) would give state and tribal wildlife agencies the resources they need to effectively protect these critical species and their habitats.
Though the bill has rare bipartisan support in Congress, it hasn't had enough momentum to make it to floor. Students are working to change that.
Last month, more than 90 students from 15 key states met with more than 50 congressional offices in support of the bill. Prior to these meetings, PIRG students, alongside our friends at Environment America, generated over 10,000 signatures in support of the legislation. PIRG students also signed on over 50 student leaders from other campus organizations in support, in addition to organizing other actions including phone calls to legislators, letters-to-the-editor, social media posts tagging legislators, and more. Three offices agreed to co-sponsor the bill on the spot and 18 agreed to consider co-sponsoring the bill.
Students also talked to offices about the Break Free From Plastic Pollution Act and the Affordable College Textbooks Act.
---
Fighting for climate solutions in Maryland
"We wrote it, we introduced it, we're advocating for it." —Nina Jefferies, University of Maryland – College Park
Students in Maryland are taking solutions to the climate crisis into their own hands. Frustrated with the lack of action on their campus, students wrote and introduced the FUTURE Act (HB729), which would commit the University of Maryland system to carbon neutrality by 2035. They're also advocating for the Climate Solutions Now package, which would implement bold statewide solutions to fight climate change.
In addition to collecting thousands of signatures in support of these bills, MaryPIRG won the endorsement of over 70 statewide and local environmental groups, student organizations, and nine student governments for the FUTURE Act. They've testified at committee hearings in Annapolis and are lobbying delegates across the state to make sure students' voices are heard.
You can read more about the FUTURE Act here.
---
Florida students for hunger-free campuses
"Our institutions already provide an exceptional education to students. The Hunger Free Campus Bill ensures those same institutions can also provide exceptional services to ensure their success beyond the classroom." —Andres Cubillos (right), Florida State University speaking at a press conference with Senator Taddeo
On average, over 40% of students at Miami Dade College, Florida Atlantic University, and the University of South Florida struggle with food insecurity. Combined, that's more than 75,000 students at just three universities. The Hunger Free Campus Bill (SB1916 / HB1407) would provide public colleges and universities with the resources they need to support their most vulnerable students.

Florida PIRG Students collected testimonies from more than 50 of their peers and shared their important stories directly with state legislative offices. Their work and the work of their partners at Swipe Out Hunger has paid off. So far, this important bill passed unanimously with bipartisan support out of both committees where it's been heard—a rare moment in these polarized times, especially in Florida.

You can read more about the Hunger Free Campus Bill here.
---
Producer responsibility and prescription drug pricing in Washington
WASHPIRG Students called on the state legislature to pass SB 5532, which would establish a prescription drug affordability board and SB 5697, the RENEW Act, which would make producers responsible for their single-use plastics waste.
Students organized education events and petition drives that culminated in a statewide lobby day where dozens of students told their stories to state legislators. SB 5532 has passed out of both chambers and just needs the governor's signature for the state to establish a prescription drug affordability board.
Photo: WASHPIRG Students meet with the office of State Senator Steve Conway.
---
A plastic and toxic-free future in California
"Plastic doesn't biodegrade, so every piece we produce will stay on our planet for hundreds of years and a third will make its way into our rivers and oceans." —Ria Coen Gilbert, University of California – San Diego
Students in California are BUSY. They're fighting for the right to repair their electronics. They want the state to ban single-use plastics in packaging from online retailers like Amazon. They're calling for the state to ban toxic PFAS and neonicotinoids.

This year, they've educated more than 24,000 of their peers in classrooms and collected more than 10,000 petition signatures on the issue of single-use plastics alone.
Students across the state held 60 lobby meetings in just one day to deliver petitions and tell their personal stories to elected officials.

You can read more about their efforts to stop single use plastics by passing AB2026 here.
---
North Carolina students want their ocean to be plastic-free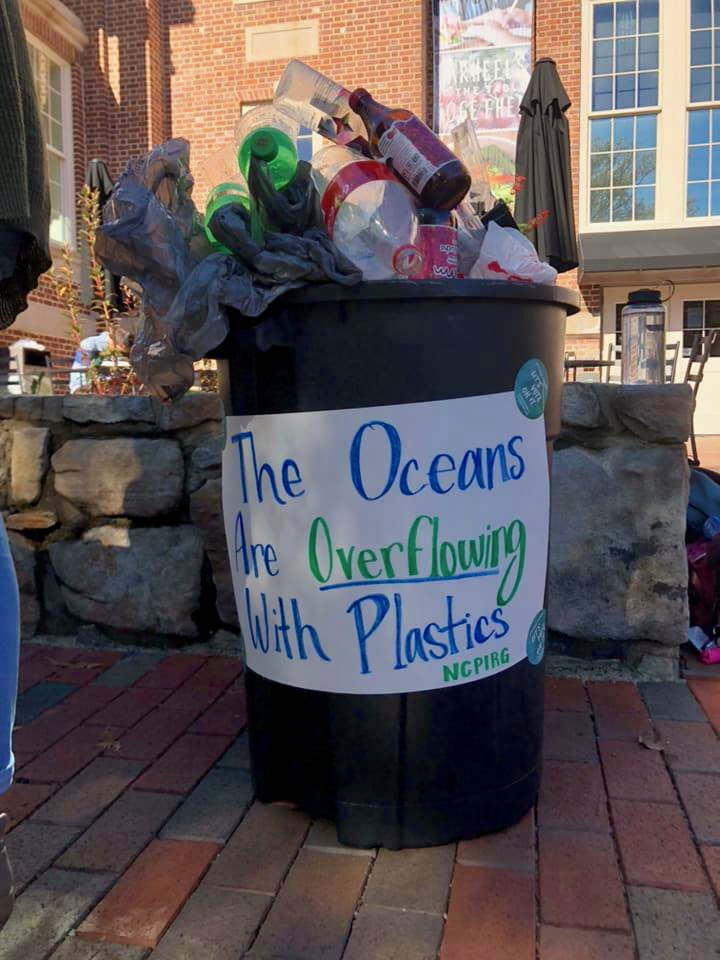 For years, NCPIRG students on 10 different campuses across the state have run the Break Free From Plastic campaign, collecting over 4,360 petitions from their peers calling on their universities to make the commitment to phase out unnecessary single-use plastics.

This year, students are calling on Gov. Cooper to sign an executive order that would call for the elimination of single-use plastics in public institutions.
At the end of March, NCPIRG students are meeting with their local city and county representatives to urge them to sign on their support for the executive order and take action to reduce single-use plastics in their municipalities.
---
Oregon students deliver more than 1,000 petition signatures in one day
Students from Lane Community College, Southern Oregon University, and the University of Oregon delivered more than 1,000 petition signatures to elected officials at their state lobby day.
Advocates called for action on the rising cost of textbooks, climate change, and expanded indigenous water rights.
---
Massachusetts students want 100% clean energy
For years, MASSPIRG students have called on the state legislature to commit to 100% clean energy.
This year MASSPIRG's priority bill, the 100% Clean Act, had its committee deadline extended until May 2nd, giving MASSPIRG students more time to build momentum to get it passed this legislative session.
MASSPIRG students asked their state representatives to urge the committee chair to report favorably on the bill and bring it up for a vote. In total, students secured five more commitments to vote for the bill, and Representative Rady Mom, whose district includes UMass Lowell, agreed to co-sponsor the bill. In addition, Senator Jo Comerford (pictured above, middle right) agreed to co-write an op-ed in support.
---
I'm so proud of the work that our student leaders are doing to push our country forward with common-sense solutions to the climate crisis, plastic pollution, toxic chemicals, affordable higher education, and more. I look forward to sharing more updates with you as these bills progress.