Fighting Hunger
For decades, we have co-sponsored the Hunger and Homelessness Awareness Week with the National Coalition for the Homeless. This year, 40,000 people took action at events around the country, and #HHWeek reached over 7.2 million people online. These events not only raised tens of thousands of dollars and collected thousands of pounds of items for the needy—from food to clothing to basic necessities—they also raised awareness and helped break the stigma around hunger and homelessness
Congratulations to the University of Oregon for winning the hunger service competition, with 375 hours of service this spring! OSPIRG at the UO held more than 25 hunger service events including holding food drives, volunteering at the local grassroots carden, making burritos for the local houseless population and so much more!


Congratulations to Florida PIRG at Florida State University for coming in second in the spring hunger service competition, and holding the biggest PIRG hunger event in years! The Tallahassee event, which was organized by PIRG student leader David Garner, was the first ever collaboration between Florida State University, Florida A&M University, and Tallahassee Community College. More than 30 volunteers participated, collecting 10,000 pounds of food items and basic necessities. The event was attended by a number of community partners and a staffer from Senator Marco Rubio's office, and was covered in five media outlets including the local ABC news affiliate.

In addition to fighting hunger through direct service, we also pushed for Hunger Free Campus legislation in a number of states including Florida and Massachusetts. These bills would help end food insecurity at public colleges and universities by providing funding for proven anti-hunger resources like on-campus food pantries, meal swipe donation programs, food vendors that take EBT/Snap benefits, and anti-stigma campaigns.
In Massachusetts, MASSPIRG hosted a lobby day with their statewide partners. Sixty students and community activists participated, and in just one day, they met with over 30 legislative offices and got five legislators to co-sponsor the Hunger Free Campus bill.
MASSPIRG student leaders Diego Maldonado (top) and Sean Simonini (bottom) with state legislative hunger champions.
—
Protecting the Environment
Los Angeles Polystyrene Ban
In December, CALPIRG Students won their campaign to ban polystyrene foam in Los Angeles! The ordinance passed by the LA City Council bans polystyrene (commonly known as Styrofoam), expands the city's ban on single-use plastics bags to restaurants and retail stores, and requires that all city-run events and facilities have policies to reduce waste, including a ban on single-use plastic food ware.
Leading up to the vote, CALPIRG students made public comments in support of the ordinance and met with city councilors to deliver over 3,200 signatures of support, including the support of 50 local small businesses. Read More >>

Better Berkeley Bag Ban
In Berkeley, after a year-long campaign of working closely with the Vice Mayor of Berkeley, almost 4,000 petition signatures, and 40 small business sign-ons, the UC Berkeley chapter passed their "Better Berkeley Bag Ban"! The ordinance extends the original single-use bag ban in grocery stores to a ban on all plastic bags (including thicker ones) at retail stores and city events, and will add a charge for plastic produce bags at grocery stores.


San Diego Polystyrene Ban
In San Diego, CALPIRG students made public comments in support of a polystyrene ban at the city council meeting – and the ban passed! First year student Rachel Tseng recruited students and trained them to write strong personal stories for the meeting, and second year CALPIRG chapter chair Byul Sak did an interview for the local news.
CALPIRG students from UC San Diego attend the San Diego city council meeting to help pass the polystyrene ban.
CALPIRG student leader Rachel Tseng testifies in support of the San Diego polystyrene ban.
Plastic Pollution Reduction Victories in the Pacific Northwest
In Oregon, lawmakers voted to phase out polystyrene foam foodware, packing peanuts and coolers statewide. All this wasteful plastic "stuff" sticks around for centuries after being thrown out and is nearly impossible to recycle — instead clogging our landfills and polluting our environment. In recent years, OSPIRG Students has built student support on campuses and PIRG staff have knocked on tens of thousands of doors to build support for the legislation.
In Washington, a state that already is a leader on reducing single use plastics, state lawmakers passed a new PIRG-backed law that requires that new buildings constructed with water fountains also contain bottle filling stations; phases out the use of small plastic containers, wrappers and packaging for personal care items like shampoo or soap by hotels and other lodging establishments; bans soft film-wrapped floats and docks; and mandates a study of hard-shell foam-filled floats and docks.
OSPIRG Students hold a lobby day to support plastic pollution reduction legislation
Protecting Our Oceans
This year, students in California and Massachusetts worked to expand protections for our ocean ecosystems. In California, CALPIRG students called on Governor Newsom to instruct his state agencies to commit to fully protecting 30% of our oceans by March 2023 and expand California's Marine Protected Network. The CALPIRG team collected nearly 8,000 petition signatures, 135 written letters, testified before key decision makers, and held dozens of lobby meetings in support of ocean protections.
CALPIRG holds a press event with State Senator Toni Atkins (front, 2nd from right) to celebrate California's Marine Protected Area network.
Eckerd College Continues to Lead
This year, we helped push Eckerd College to continue to be an environmental leader for colleges across the country. Florida PIRG worked with the student government to pass a unanimous resolution in support for 100% renewable energy on campus. And our students joined college officials at an event to reaffirm Eckerd's commitment to Break Free From Plastic and prohibit the purchase of nonessential single-use plastic items with college funds. The pledge was originally adopted in 2019 in response to Florida PIRG's campaign, led by then Eckerd student and current NJPIRG campus organizer Alex Gordon. Outgoing Florida PIRG chair Chloe McKenna (below, 2nd from right) gave a speech about the history behind the Break Free From Plastic movement at Eckerd College at the event.
Left to right: Eckerd College Professor of Marine Science and Biology Shannon Gowans, Eckerd student government President (and Florida PIRG alum) Christyna Reagan, Eckerd College interim President Jim Annarelli, Eckerd senior and Florida PIRG chair Chloe McKenna, Eckerd College Associate Professor of Marine Science Amy Siuda. Photos by Penh Alicandro '22
Earth Week
This year hundreds of students celebrated #YouthEarthWeek across the country. From beach clean ups to pollinator educational events, students found creative ways to protect our environment. In total, more than 1,000 students attended events to celebrate Earth Week!
—
Making Textbooks More Affordable
Report Release
In February, we released our 21st report on the Affordable Textbooks campaign, entitled Open Textbooks – The Billion Dollar Solution (2nd edition). The new report is a first of its kind review of open textbook grant programs across the country and provides recommendations for campuses interested in starting their own programs to expedite adoption of open educational resources (OER), which are high quality openly licensed course materials that are free for students to access.

Affordable Textbooks Legislation
This year, we helped win $12 million in the federal budget – the most ever – to fund open textbooks on college campuses across the country. The funding is part of the Open Textbooks Pilot Program that we helped launch in 2018.

In addition, we helped four states (CA, MA, MI, and OR) introduce legislation to tackle the high cost of textbooks, plus national legislation that we helped advocate for during our federal lobby day at the end of February. These bills would provide funding for universities to implement or expand the use of free open textbooks on campus! Shout-out to our student leaders from PIRGIM, who saw two pieces of legislation introduced after their affordable textbooks lobby day this spring!
PIRGIM student leaders hold a lobby day for affordable textbooks
PIRG student leaders meet with the White House during our federal lobby day
Promoting Open Textbooks On Campus
A number of chapters held events to promote free open textbooks on campus. At chapters including UMass Amherst and the University of Oregon, students held "OER Oscars" events to give out awards and recognize faculty that are going above and beyond to save students money on textbooks costs. At UMass, State Representative and friend of MASSPIRG Mindy Domb sent certificates to the winners!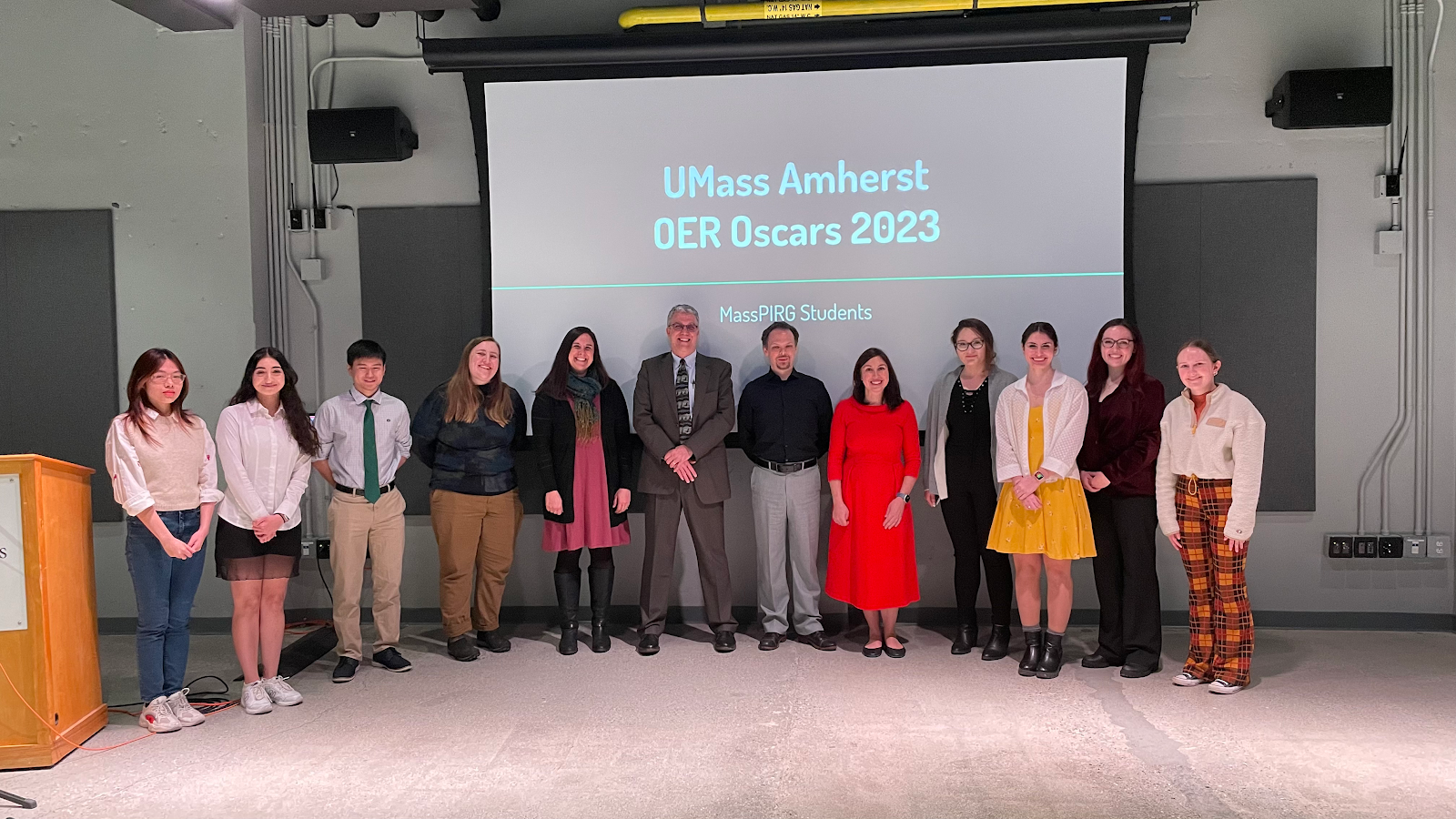 UMass Amherst OER Oscars
During Open Education Week, we held a number of events across the country and educated thousands of students and faculty. In Massachusetts, MASSPIRG students organized an online panel discussion on successful OER strategies with the MA Department of Education, State Representative Mindy Domb, the UMass Amherst library, and our partners at SPARC. The event was attended by dozens of VIPs and was moderated by MASSPIRG student board member Gent Haviari from UMass Dartmouth.
—

Turning Out the Youth Vote
Last fall, our top priority was turning out the youth vote for the midterm elections. In total, we made over 200,000 get-out-the-vote contacts and reached over half a million students! In addition to tried and true organizing tactics like tabling, phonebanking, and class announcements, we held lots of big, fun, visible events on campus to encourage turnout – including events with ten foot tall inflatable "vote goats"!
Data from the Center for Information and Research on Civic Learning and Engagement (CIRCLE) then estimated that the percentage of all eligible young voters, ages 18-29, who cast a ballot in 2022 will reach 27%, the second-highest national voter youth turnout rate for a midterm election in nearly 30 years. Our data also showed that 41% of students that we helped register for the 2022 midterms turned out to vote – well above the national average!
—
Awards
Stone & Holt Weeks Award
CALPIRG board chair and UCLA student leader Clara Castronovo was awarded the Stone and Holt Weeks Foundation Recruitment Award for her work this year building a strong team of leaders in her CALPIRG chapter at UCLA.
Student Vote Leadership Award
The Student PIRGs New Voters Project won an award from the Students Learn Students Vote (SLSV) coalition, called the "Centering and Trusting Local Leaders" award. The award honors the hundreds of student leaders across the country who helped their peers turn out to vote in November.


ALL IN Student Voting Honor Roll
A number of current and former PIRG student leaders were recognized as 2023 ALL IN Student Voting Honor Roll recipients. The awards recognize college students who are advancing nonpartisan student voter registration, education, and turnout efforts. The PIRG student leaders honored include:

Sydney Greenway, Wayne State University
Parnian Karimi, University of of Washington
Quanzelle Austrie, University of South Florida – Tampa
McKenzie Roller, UNC Chapel Hill
Catherine Sales, UMass Amherst
Gent Haviari, UMass Dartmouth,
Cami Cartland, UC Irvine

---