The past two weeks mark an important milestone—the start of primary elections across the country. Students are making sure their voices will be heard from now to Election Day and beyond. Once again, the nonpartisan Student PIRGs' New Voters Project is gearing up to help register 100,000 students to vote and make 250,000 Get out the Vote (GOTV) contacts in 16 states.
This week, students organized a Valentine's Day-themed "I <3 Primaries" Week of Action to kick off our campaign. More than 20 college campuses participated, helping more than 5,000 students register and fill out a pledge to vote card. Read on for more highlights from this week!
I <3 Primaries Highlights
22 campuses: We held I <3 Primary Voting Celebrations on 22 campuses in Florida, North Carolina, Maryland, New Jersey, Massachusetts, California, Oregon, and Washington
120 volunteers: Students gained leadership experience organizing these events. Some even put on their best outfits for their "date with democracy" as they helped register their peers for upcoming primary elections.
6,000 students educated: In all, we talked to thousands of students and helped over 5,000 students register to vote!
North Carolina
At the University of North Carolina – Pembroke (UNCP), NCPIRG students and UNCP Votes worked with the chancellor to establish a free shuttle for students to take them to off campus polling locations. NCPIRG students are leading the effort to get hundreds of students to commit to using this service during early voting next Wednesday.
At Durham Tech Community College, NCPIRG students already helped register 25% of the full-time student body since the beginning of the school year!
Massachusetts
MASSPIRG students led massive pushes on 13 campuses to help register and educate students before the registration deadline this past Wednesday. In total, they helped 2,000 students register and make a plan to vote in the primaries, and educated another 4,000 students through all-campus emails and class announcements.
At UMass Amherst, student leaders helped register over 400 students to vote. Town Manager Paul Bockelman was excited to tweet photos of our volunteers turning in all of the completed registrations.
California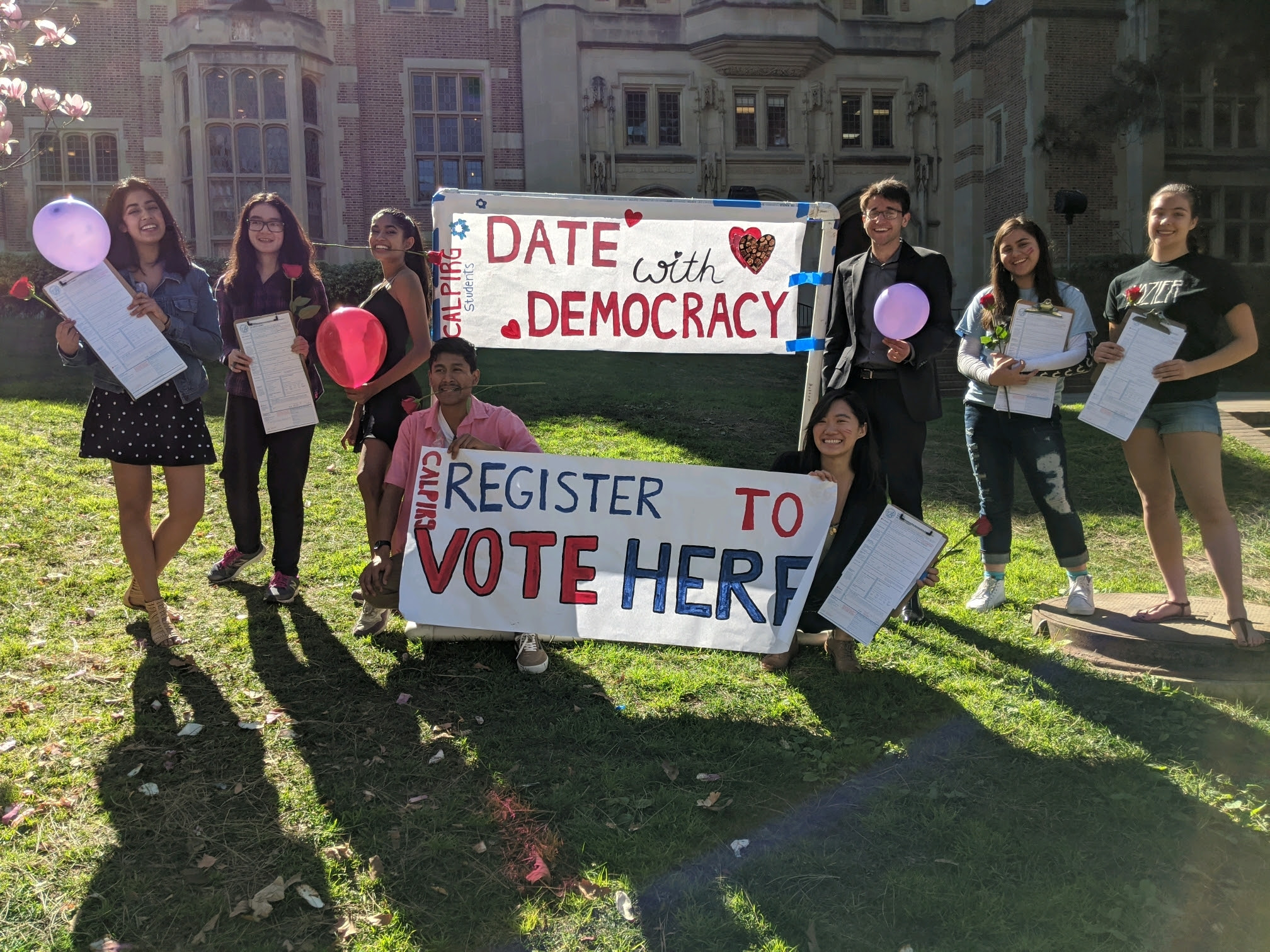 CALPIRG students are leading the way in developing vote coalitions that will make it easier for students to register this coming fall.
At UCLA and UC Davis, CALPIRG chapters worked with their Chancellor's offices to send all campus emails that encouraged students to register to vote online using our CAStudentVote.org tool before the upcoming primaries.
UC Berkeley also had their first Vote Coalition meeting of the semester in which 18 student groups and administrators attended.
About The Student PIRGs' New Voters Project

PIRG New Voters Project, Inc. is a non-partisan, nonprofit 501(c)(3) organization with 4945(f) status. We work on 60 campuses across the country to activate the largest voting bloc in the country. Young people continue to be underrepresented in our democracy, so we work to make sure every student has the opportunity to have their voice heard in our elections by building a culture of civic engagement on college campuses. We engage students, faculty, and administrators to build lasting systems of voter engagement for the long term.

Since 1984, our field based, non-partisan effort helped to register over 2 million young people and make over 3 million Get out the Vote contacts reminding young people where, when, and how to vote. We have tested new field models to ensure we are running the most effective civic engagement program possible. One study of our program showed that 76.3 percent of the voters we helped to register turned out to the polls, among the highest rates of all non-partisan voter registration efforts. 68.8 percent of voters we helped to register were brand-new registrants, making the project one of the most effective ways to bring new voters into the electoral process.
About The Student PIRGs

Students have the right and the responsibility to shape the future we will inherit. Our program spans over 100 campuses in 11 states, of which 35 campuses have self-funding programs, that provide the training, professional support and resources students need to tackle climate change, protect public health, revitalize our democracy, feed the hungry and more. Students have been at the forefront of social change throughout history, from civil rights, to voting rights to protecting the environment. For over 40 years we've helped our campus communities get organized, mobilized and energized so they can continue to be on the cutting edge of positive change. Every year, over 4,000 students gain hands-on experience in organizing and activism by volunteering with us to generate 150,000 grassroots actions.