There are 32 days left until Election Day on November 3rd. The nonpartisan Student PIRGs' New Voters Project is working (virtually) to get out the youth vote this fall, building on our 35-year history that has helped 2 million students register to vote and made more than 3 million Get out the Vote contacts. We kept up our momentum this week, building off of last week's successful National Voter Registration Day, reaching more than 160,000 students this week with reminders to register and make a plan to vote. Read on for some highlights from our team this week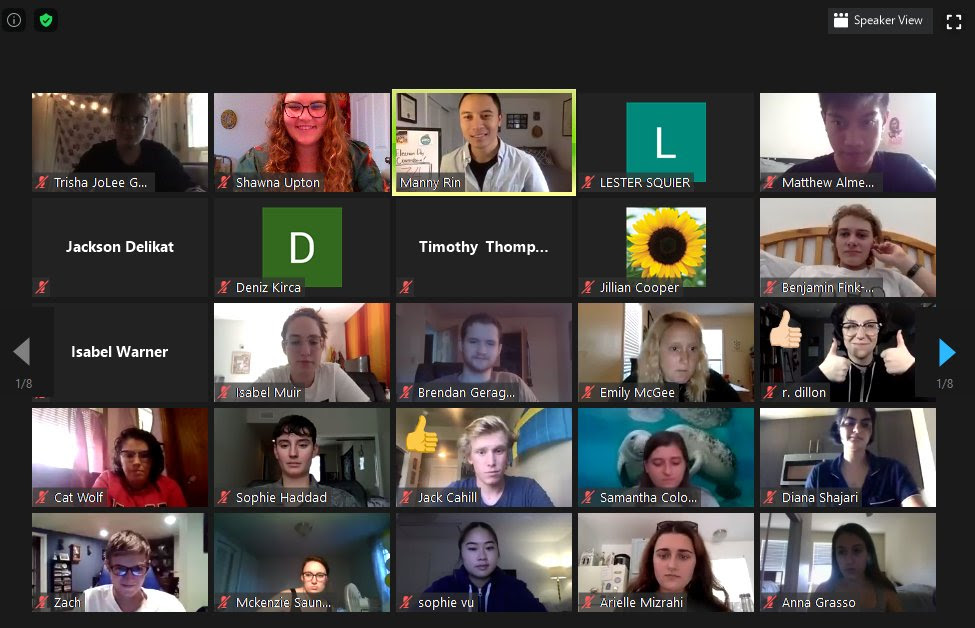 ---
Preparing for voter registration deadlines
Our team of organizers and student leaders are preparing for voter registration deadlines coming up in Arizona, Georgia, Texas, and Florida on October 5th, New Mexico on October 6th, and North Carolina on October 9th (for online registration). Thanks to our outreach, media outlets, including Business Insider and Public News Service (in a segment that will run in 84 radio stations across the country), got the word out about these upcoming deadlines.

We use proven and tested methods for increasing youth registration and turnout. Young people are more likely to respond to messages from their peers and figures they know and trust. That's why our team is reaching out to hundreds of professors, departments, and administrators to share information about the upcoming voter registration deadlines and organizing calling and texting events where volunteers reach out to the people they know to make sure they're registered and have a plan to vote.
We reached more than 160,000 students this week through emails, phone calls, text messages, and peer-to-peer outreach, including at campuses such as UNC Chapel Hill, where the student housing department emailed more than 9,000 students about the voter registration deadline and linked to our voter registration tool, NCStudentVote.org
Over 200 students joined our weekly organizing call to talk about National Voter Education Week, happening next week (pictured above)
Madeline Pederson, 18, imagined that in the months leading up to Election Day she'd be spending hours standing at a voter registration table on campus at the University of Texas at Austin, flagging down students walking through campus and registering them to vote.

Instead, the freshman neuroscience major is holed up in her childhood bedroom in Arlington, taking all her classes online because of the coronavirus pandemic. Her voter activism is relegated to Zoom.

"It's just me and my laptop against the world," said Pederson.
The Texas Tribune, in a profile of PIRG student leader Madeline Pederson, who is working to increase the youth vote this fall

---
America's next top campus for voter registration
Colleges are known for their school spirit and sports rivalries, but why shouldn't they also compete to see who can be the most civically engaged? In many of our states, we're sponsoring competitions between universities to see who can help the most students register to vote, and designing them so that students use relational organizing to get their peers engaged, which we know will increase voter turnout.
In Florida, we helped launch the Florida Campus Voting Challenge, a competition between University of Florida, Florida State University, University of South Florida, and the University of Central Florida to see who can help the most students register to vote. In addition, we're sponsoring competitions between Palm Beach Atlantic University Athletics, Nova Southeastern University Athletics, St. Leo University Athletics and Greek Life, University of North Florida Housing, FAMU Housing, and University of South Florida – Tampa Greek Life.
In Georgia, we partnered with Georgia State Student Housing to organize a competition between a dozen dorms to see who can help register and educate the most students in the week before the deadline. In total this effort will reach 7,000 students.
In California, we worked with the Secretary of State's office to launch the College and University Ballot Bowl in 2016, and this year more than 80 campuses are participating to see who can help the most students register.
---
Helping faculty help their students vote
Student PIRGs Political Director Dan Xie and Associate Professor Allison Rank of SUNY – Oswego trained faculty across the country with the Faculty Network for Student Voting Rights on best practices for reaching their students. From adding deadline reminds to online course platforms like Moodle and Canvas to facilitating peer-to-peer voter outreach, faculty can make a big impact this election. You can watch and share the presentation with this link.
About The Student PIRGs' New Voters Project
PIRG New Voters Project, Inc. is a non-partisan, nonprofit 501(c)(3) organization with 4945(f) status. We work on 100 campuses across the country to activate the largest voting bloc in the country. Young people continue to be underrepresented in our democracy, so we work to make sure every student has the opportunity to have their voice heard in our elections by building a culture of civic engagement on college campuses. We engage students, faculty, and administrators to build lasting systems of voter engagement for the long term.

Since 1984, our field based, non-partisan effort helped to register over 2 million young people and make over 3 million Get out the Vote contacts reminding young people where, when, and how to vote. We have tested new field models to ensure we are running the most effective civic engagement program possible. One study of our program showed that 76.3 percent of the voters we helped to register turned out to the polls, among the highest rates of all non-partisan voter registration efforts. 68.8 percent of voters we helped to register were brand-new registrants, making the project one of the most effective ways to bring new voters into the electoral process.
About The Student PIRGs
Students have the right and the responsibility to shape the future we will inherit. Our program spans over 100 campuses in 11 states, of which 35 campuses have self-funding programs, that provide the training, professional support and resources students need to tackle climate change, protect public health, revitalize our democracy, feed the hungry and more. Students have been at the forefront of social change throughout history, from civil rights, to voting rights to protecting the environment. For over 40 years we've helped our campus communities get organized, mobilized and energized so they can continue to be on the cutting edge of positive change. Every year, over 4,000 students gain hands-on experience in organizing and activism by volunteering with us to generate 150,000 grassroots actions.